Shooters Should Smile When the Weather Is Bad


Massive snow / ice storms snarling traffic. Torrential winter rains across the Southwest and California. Arctic air and subzero temperatures. Time to give your camera a rest, right?




Mourning doves in the rain, Saratoga, California

Many of you will stay inside and watch nature's drama through glass, but window shots feature glare, reflections and fuzziness.

Wouldn't you rather be outside shooting pictures no one else gets?



Comfort In Southwest Rain


Here in the Southwest (or on the California coast), winter has primarily been rainy. We're all pre-shrunk, fortunately, but good rain gear will keep you comfortable. I wear Goretex (or equivalent) jacket and pants. Far and away, I prefer a Goretex boonie hat like those by Outdoor Research (their Seattle Sombrero) to any other storm headgear. The hatbrim folds to my head shooting vertical – no more hats knocked off by the camera. It also lets me hear what's going on, unlike an ear-covering hood. I'll just fold the hood into the jacket, grab the boonie hat, and go.



Rainy Day Camera Gear


You may float, but your cameras can't swim. And they don't like melting snow, either. Fortunately, major camera makers market weather-sealed dSLR gear. and sealed mirrorless cameras and lenses are starting to appear.

I used to bag cameras and lenses in zip locks before bringing them indoors to prevent condensation inside them. With today's weatherproofed gear, I haven't had to do this for several years.

If I'm shooting wildlife, I'll use a Canon EOS 1D mk II or EOS 7D. The 1D series cameras have the best weathersealing Canon knows how to build. The 7D is pretty good, too. Any of Canon's L-series lenses will shrug off rain pretty well. I've used the 24-70mm f/2.8L and 70-200mm f/2.8L IS for rainy landscapes with an EOS 5D mk II, another well-sealed dSLR.

I'm less willing to carry heavy gear these days, so my stormy weather wildlife lens of choice has become the 400mm f/4 DO IS. When I'm not walking too far, I like the 500mm f/4L IS. Its main downside is the tripod I need to use it. Gitzo's carbon fiber G1325 MK II with Arca Swiss head and Wimberley Sidekick Support mine. I use lens and camera plates from Really Right Stuff on all my gear. These allow quick tripod mounting, and stay square without cranking down on retaining screws.



Doing It in the Storm


Fair-weather shooting approaches work in stormy weather, but you get a longer shooting day from cloud-diffused light and softened shadows, and more saturated colors.




Clearing hail storm and sunset light, Albuquerque, New Mexico

I also like shooting on the edges – clearing and approaching storm weather gives dramatic light. Then I look for contrasts – bright colors with diffused shadows and great cloud textures with intensely-jagged mountains set the scene. All of these are great, but you need a subject in that nice light to lift a shot out of the wallpaper category.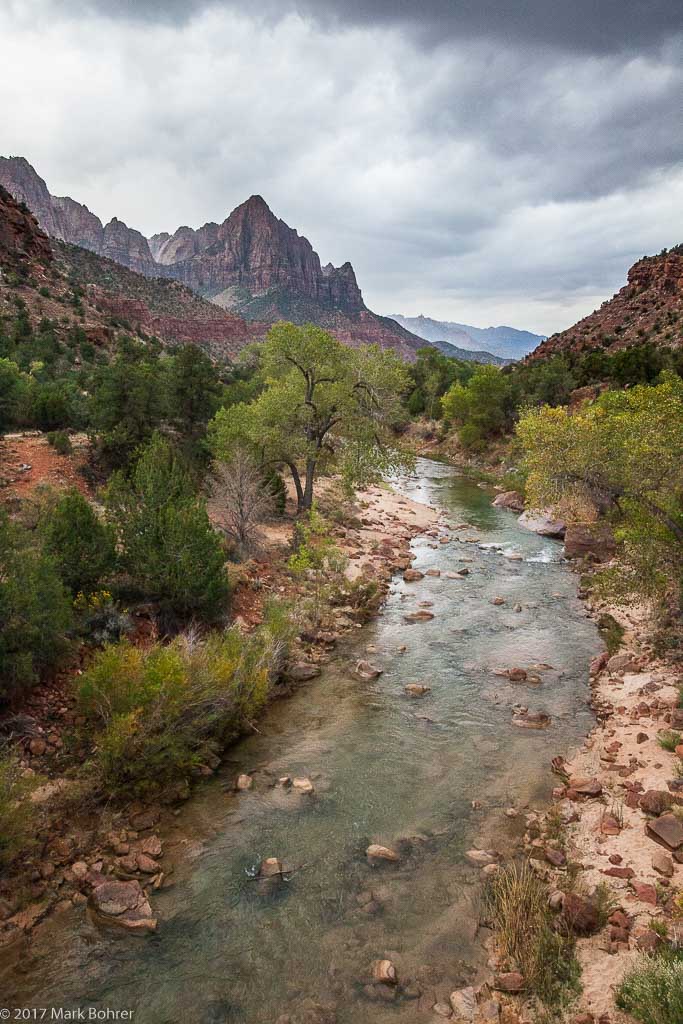 Virgin River, Zion National Park, Utah



Stormy-Day Subjects


Wildlife are excellent for this, but they require knowledge of their habits and a choice of what behavior you're shooting. I like to know where I'll find them, and what they'll be doing.




Soggy competitors at the 2006 Sea Otter Classic, Laguna Seca, California

Sports competitors are a more predictable subject – you usually know when they'll be in position, and can choose your spot to catch them.




Daisy and Buzz, Taos, New Mexico

But my favorite subject is my furry family. I can't direct them specifically, but I usually have a good idea what they're going to do. Sometimes they surprise me, and I get cool grab shots. Either way, they're great fun.




Daisy in the storm, Taos Valley RV Park, New Mexico



Show the Dynamics


You're trying to show dynamic storm behavior with a still camera. One way I do this is with a slow shutter speed. At our favorite Taos RV campground, I used 1/30 second handheld as my big Bernese mountain dog Daisy ambled over for a sniff. Near midnight, falling snow streaked the air above her, intensely visible near the RV's outside light.




Shaking off the rain, Rancho San Antonio, California

Freezing the action works too, if there are enough raindrops or big snowflakes to show. Shooting in a popular San Francisco Bay Area park, I was surprised by a mule deer shaking water off like a dog. Droplets flew everywhere against a cloud of falling rain, showing up easily at 1/160 second. Wildlife need to eat no matter what it's doing outside, so I knew I'd find them out there.