Coronavirus Restrictions and Photography


– Many times, I choose lenses for their short focusing distance and field of view. But I won't be shooting close compositions with people in them anytime soon.

As a photographer, I'm looking for ways to document the effects of the coronavirus pandemic. I won't be likely to travel – national park and monument gateway communities are telling everyone to go home, and some parks are closed. Local trails are still open here in Albuquerque, including those at Petroglyph National Monument on the west side of town. I've been a seasonal interpretive ranger and I still volunteer there – but not right now with the visitor center and its parking lot closed. Trails are still open, though, and law enforcement rangers are still on duty in the Monument if you have a problem.




It's just this empty at the visitor center – but you can't see this view right now.
(Petroglyph National Monument)

So far, dogs are unaffected by the virus. If your local trails aren't too crowded, it makes sense to hike them with your dog.



Humans Keep Your Distance – Close-Up Dogs OK


There's no cure or vaccine for the virus right now – all you can do is stay 6+ feet away from everyone else and wash your hands a lot. That said, people can still be in your picture – but no closeups. So far, most trails, city parks and dog parks have no enforced restrictions on how many people and dogs can be present, as long as you're 6 feet away from other humans. And with isolation orders, a dog cooped up inside will eventually go nuts without exercise. (So will his people.) We have no option but to keep going out and about with our young Bernese Mountain Dog Taylor.




Taylor in Piedra Lisa Park

We're blessed with great nearby trails for this, in the Sandia Mountains and foothills. I was already walking Taylor around 2-3 daily miles up there.

But it's becoming more difficult to keep your distance. Foothill trails I used to have to myself during weekdays now feature fellow walkers and bicyclists about every 50-100 feet. I frequently pull off onto a side trail or spots clear of prickly pear to allow others to pass. And it's very weirdly anti-social, with an end to the informal conversations that used to happen. There's no more "Hi, how you doing? Is your dog friendly? Oh, looks like they want to play." People just separate and walk or pedal on by.




Social distancing at the dog park…

Dog owners keep their distance reasonably well at the dog park. There's been a decline in the number of owners and dogs, so the 5 or 10 person restriction for public gatherings probably won't be a problem – at least in smaller cities and towns. If we were still living in the South San Francisco Bay Area, it might be different. I wonder how crowded California Highway 9, California 84 / La Honda Road, and California 92 / San Mateo Road are leading up into the Santa Cruz Mountains. With everyone not working, Bay Area Trails must be packed.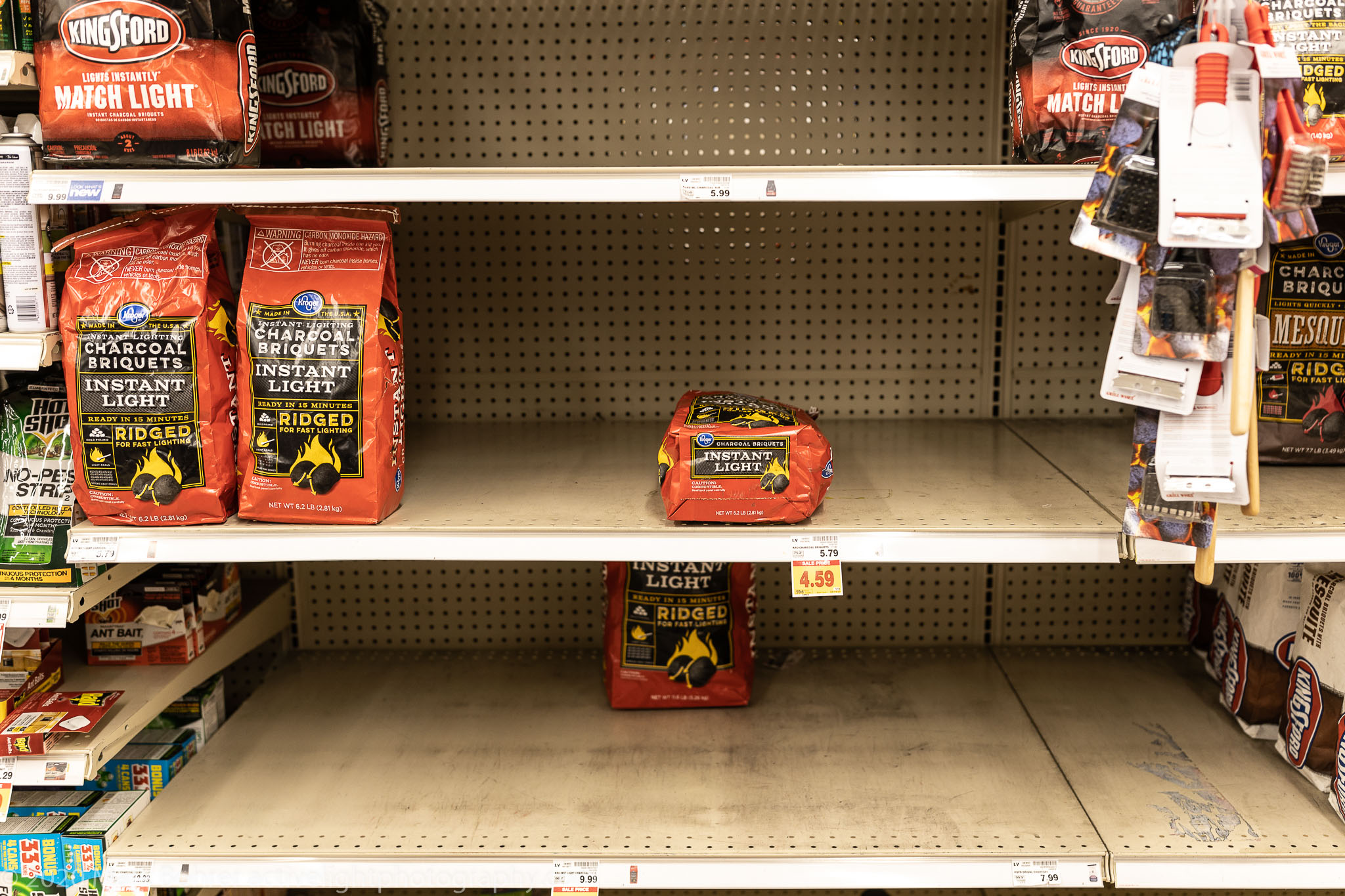 Charcoal briquets are popular…



Can't Buy Dis


If you want toilet paper, hand sanitizer or charcoal briquets at the grocery store, you'll need to get up at 6am, or whenever your stores get new shipments. Even with restrictions to one package of rolls or sanitizer bottle per customer, stores sell out in minutes. (Just what are all you hoarders wiping with all that TP?)




Red chile, anyone?

But you can still get red chile sauce and wine, and other essentials. Produce aisles and butcher counters are still well-stocked.




…or maybe you'd prefer wine

Customers range from unmasked, bare-handed customers in shorts and T-shirts cutting way too close to me to grab produce off the shelves, all the way to fully-clothed and covered shoppers in masks and gloves keeping 6-8 feet away. The well-covered folks in PPE (personal protective equipment) are perhaps more thoughtful at keeping any illness they have away from the rest of us. (PPE is what first responders wear as they approach a potential injured or sick patient, following an observation of scene safety.)




Only a burger-flipping worker in the lobby

If you're going out to eat, everything is takeout now. We were allowed in the lobby at our favorite fast-food chicken place last week. Not any more. At least Lotaburger got our order right this time.




Bright lights on full Tramway Blvd – January 9, 2018




Tramway Blvd now, March 28, 2020 – fewer parking lot lights and headlights

And the multi-lane state highway we live near, Tramway Boulevard, has gotten eerily quiet at night. There used to be a ribbon of headlights up and down it after dark, plus lots of lights at business parking lots. Now there's almost nothing. Yes, there are backups of cars waiting for takeout at restaurants on side streets around dinnertime, but aside from the occasional ambulance running lights and sirens, traffic is way down.

So that's where we're at – separated walking on trails if they aren't already too crowded or closed, six feet apart in grocery stores, and takeout only at restaurants – no more sit-down dining unless you're at home. Little or no traffic on major highways and city streets. Oh, and Google search may be getting very slow due to overuse with everyone home. Might be better to use a different search engine like Bing.




Evening walk through Piedra Lisa Park



Shot Notes


It's true – I hate zooms. They perform notably worse than single focal length (prime) lenses in every way – worse center sharpness, chromatic aberration (CA) / color fringing, vignetting / corner-darkening, smaller maximum aperture, bigger size and weight.

I usually carry a waist pack of Leica prime lenses, or when I need autofocus, a belt with cases for a couple primes attached and a dSLR or mirrorless camera strapped around my neck. Favorite focal lengths used to include 24mm and 50mm, and I zoom with my feet all the time. But because I can't do my favorite close compositions now, I'm leaving the 24mm at home and using 35mm, 50mm, and 75-85mm. The longer lenses give me similar coverage at longer distances, but their perspective is different. I can still get close to grocery store shelves and prickly pear, but not to anything else. I'm especially mindful of this in shots of dogs and their owners.




Derby up close

And it still doesn't stop me from getting close to dogs without humans. At a recent shoot with a neighbor's Pembroke Welsh corgi, I found myself sitting on the ground and bending down to corgi-level, frequently interrupted by my subject running over and trying to lick my face. Favorite pups at the dog parks frequently break off chasing and playing with each other to come over and sniff for the treat pouch I wear. Fortunately, dogs are deemed extremely unlikely to be carriers of coronavirus, so touching someone else's dog is probably pretty safe. That said, I always wash my hands well when I get home from the dog park.




Taylor on the trail



More Information


New Mexico Department of Health (March 23, 2020), Public Health Order. Retrieved from
https://cv.nmhealth.org/wp-content/uploads/2020/03/SignedPHO03-24-2019.pdf
-This is New Mexico's isolation order. It's pretty similar to other states'.

web MD Health News (March 3, 2020), Your Pets Unlikely to Get or Give Coronavirus. Retrieved from https://cv.nmhealth.org/wp-content/uploads/2020/03/SignedPHO03-24-2019.pdf

Sidebar – How To Measure Those Miles You've Walked
We all want to know what time it is, and how far we've gone. I bought an Apple Watch last fall when the stem on my 12 year old Citizen Titanium Eco-Drive chronograph no longer let me set it. I'd already had it repaired once in the last couple years, so it seemed time for a new watch. And the Series 5 Apple Watch now has an always-on display, and senses heart rate through its back. My non-cellular model needs a nearby iPhone for most functions, but has a GPS for tracking.

The Apple Watch's activity app can be addicting. I've found myself walking up and down the stairs at night to close my Move ring (not Mood ring). Climbing stairs is much better for burning calories than walking on one level. And if you just need another 10 or 15 calories to close that ring, a few stair trips can do it.

Most cellphones today have a GPS and exercise tracking, so you can get credit for those miles you walk. The trick is simply remembering to take your phone wherever you walk.