Time to meet 5,000+ petroglyphs and stark mountain landscapes. Mesa Prieta is usually deserted, and touched by decent morning light (sometimes spectacular). So how do you get ready? Beyond revisiting the route to the location, my pre-shoot thoughts go something like this:

Early morning arrival, sunrise to be exact. Better be there a few minutes ahead to capture any pre-rise color. So I'm getting up at O-dark thirty again.




Up to the mesa – snow on the rocks

What's the forecast? Rain? Snow? Cold? Storms mean great sky textures and soft light, and I live for those. Backgrounds are important to any shot. You and I are pre-shrunk, but better pack the rain gear for comfort while shooting in the rain or wet snow. I'll also need weather-sealed cameras and lenses. Yes, an armpit will protect a small setup from light precip for a little while. But without weather seals, equipment has to ride in its case. Hard to take pictures from in there.



Matching Gear to Subject


So OK, pack for the conditions. But what are we going to shoot? Petroglyphs look great close-up – within 10 to 20 inches – but it isn't always possible to go close, and I don't always want to. Mesa Prieta offers landscapes too, both around and outside it. And there can be wildlife, from black-tailed jackrabbits to spotted ground squirrels to Cooper's hawks.

I really like the rendering of Leica M lenses, but they aren't weather sealed. Leica may change this in the future, since their more recent cameras are sealed. But with mixed rain and snow predicted the next morning, I packed an EOS 5D mk IV and 2003-vintage EF 24-70mm f/2.8L. A sealed zoom lens on a dSLR can give me most of what I want – 24mm wide, 70mm mild telephoto, some depth of field isolation, no need to change lenses, 15 inch close-focusing. But longer telephoto views and extreme DOF isolation weren't on the menu. Or so I thought.




Spirals, snakes and totems?



Last Minute Changes


I like to have gear picked and packed the night before a tour. But that morning, the Weather Channel's Storm Radar app forecast snow with gradual clearing by mid-day. In New Mexico, snow is usually pretty dry, so I could get away with un-sealed lenses. Just in case, I had packed a fanny pack with a 16-18-21mm f/4 Tri-Elmar ASPH and 135mm f/4 Tele-Elmar, plus an M10 rangefinder camera with 35mm f/1.2 Nokton VM II mounted. So it looked like I was bringing that pack. It would give me wide and close to 19″, depth of field isolation at 35mm, plus 18-degree telephoto views from the 135mm.

My other thought was to completely switch over to Leica equipment, substituting 50mm f/1.4 and APO 75mm f/2 lenses with a mirrorless Leica SL for the dSLR and zoom. But time for repacking plus a near-dead SL camera battery put an end to those thoughts. I consoled myself with a small Canon 430EX II-RT flash packed with my 5D mk IV. Flash fill can give a different look, even with on-camera flash, something I usually avoid.

Then I threw everything in the car and headed out to meet my tour participants.



Snow on the Mesa


When I met Ed and Bonnie at the trailhead, there were just a few swirls of delicate snow looping down. It was still expected to clear by midday, so I suggested we ditch our raingear for a morning trip. We ducked under the boundary wire to the darkly-craggy, cracked-off boulders at the base of the mesa, and headed up the trail.

My favorite sunburst and balloon face 'glyphs were almost invisible, water-soaked and softly-lit in the overcast light. But fresh snowflakes falling in October(!) and the prospect of snow-accented landscapes urged us on. Aerial snowflakes made distant details soft and hazy. Even though the sky looked uniformly white to my naked eye, I figured it might be recoverable from raw files in post with Lightroom. (Turned out I was right.)




Climbing the trail

We reached the spur trail to the top of the mesa after a mile or so. There were snow-dusted rocks and sage, and frame-filling rocky diagonals accented with snow. I figured it was a landscape day, and the mesa didn't disappoint.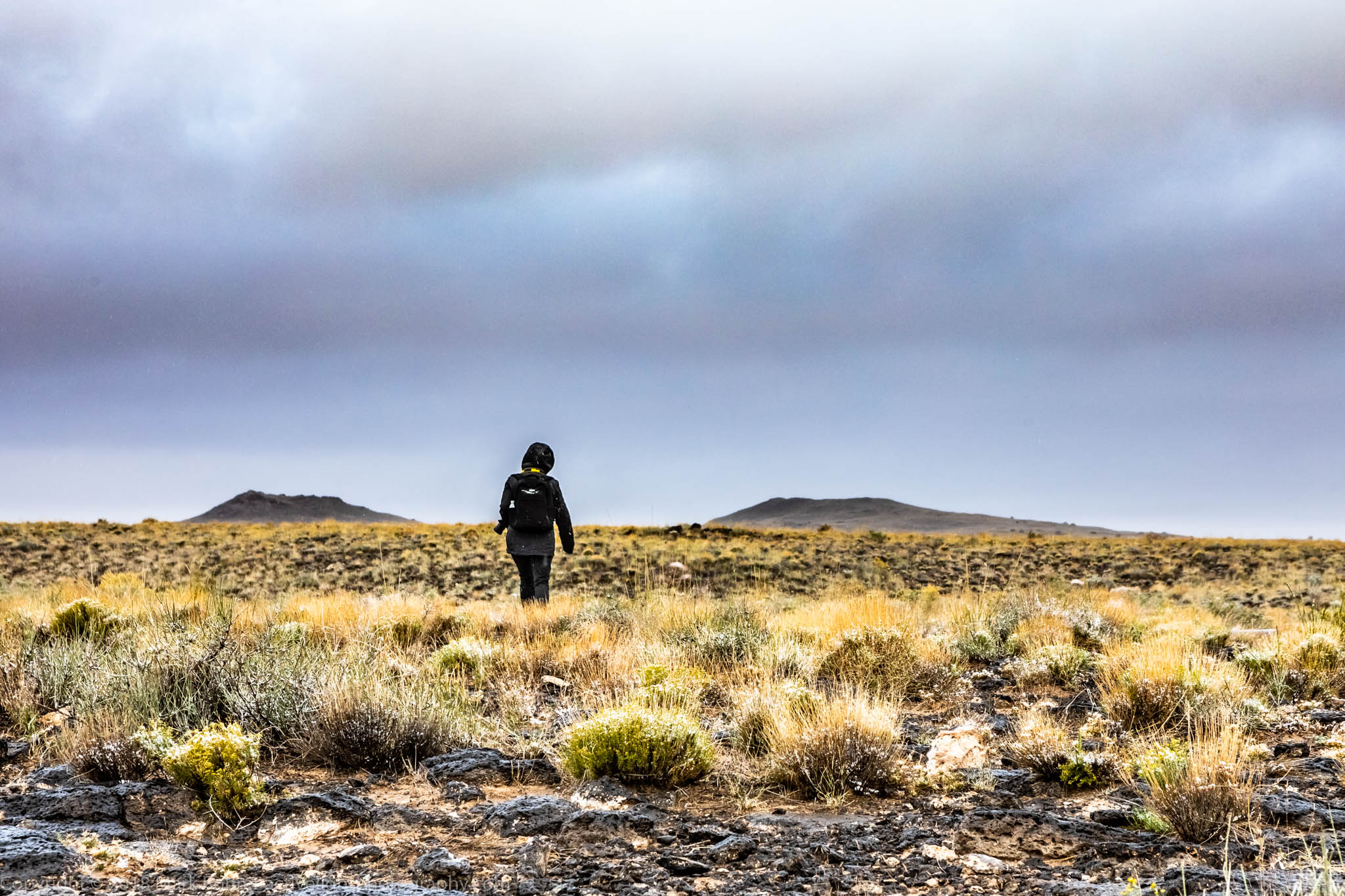 Looming volcanoes

The Volcanoes peeped over the mesa's sawed-off summit at the top of the trail. These are piles of volcanic debris thrown up from the thin spots along a five mile crack in the earth's crust, a fissure eruption. Geologists think the last eruption was only 120,000 years ago (an eyeblink in geologic time), with six discrete lava flows across the top of the sandstone mesa.

Everyone got an ant's eye view of the Volcanoes for some pictures. Usually I have to angle tripod legs out and squat or sit for low views, but we got it standing up just before the top.




Droplets on the web

Snow and rain-swept landscapes and pieces of them were the primary attraction on the mesa top. High desert presents its own ecosystem peculiarities, especially in winter. There's more green after any precipitation year-round, from plants including chamisa AKA rabbitbrush, sage (bluish), and prickly pear (the leaves have actually morphed into spines, while the big green flat stems photosynthesize). Their colors provided a nice contrast to fresh snow. We also had a large spiderweb sprinkled with water droplets.

After walking west for better views of poorly-formed basaltic columns near the top of the escarpment, we retraced our steps and headed back down. It was time to go looking for petroglyphs.




Macaw (or hawk?), Mesa Prieta escaprment



"There were Masks and Birds and Rocks and Things…"


Puebloans pecked 'glyphs on the rocks in the Rio Grande style between 1300 and 1700. But they left no written records of any meanings. Even modern Puebloans disagree on what they mean, preferring to see them as pathways to their ancestors instead. For us, it was a giant guessing game. We recognized macaws (or mourning doves? Or hawks?), flute player Kokopelli, dragonflies and spirals, but there were many more that left us clueless.

Whatever they mean, cloudy skies gave us a giant sun diffuser for very soft light on the petroglyphs. This let us shoot without really caring where the sun was in its lowered Fall arc.




Dragonfly with flash…




Dragonfly without flash

I did get a few images with flash picking out main petroglyph features from the background landscape. This usually means less masking to highlight those features with Lightroom later. I kept the CTO warming filter on the 430EX III-RT speedlite for warm light. This makes backgrounds look blue by comparison, yet another way to make the subject stand out.




A final petroglyph panel

After a last hurrah of scrambling uphill to a complex 'glyph panel, it was time to retrace our steps to the trailhead. Ed and Bonnie had enjoyed themselves, and they got the multi-mile scenic workout they wanted too.




Showers and purple-bruise sky



Shot Notes


Don't discount older lenses. A 135mm f/4 Tele-Elmar from 1965 gave me a great rain-streaked landscape shot against bruised purple skies. That lens was just $380 on ebay.




Fringing on the edges

I rediscovered intense blue fringing from the EF 24-70mm f/2.8L (v1) lens, especially at the 24mm wide end. Lightroom Classic reduces this with its Remove Chromatic Aberration tool, but doesn't quite eliminate it. It's especially noticeable along out-of-focus white edges you'd find with snow against a rocky background, or any other sharp white to black edge.

**ADVERTISEMENT**
Want to explore Southwestern ruins, slot canyons and petroglyphs, without worries about finding the best spots? Need some suggestions for better shooting, along with the backstory on unusual subjects? Check out a guided photo tour with me!


Hidden Mesa Prieta Tour
*******************
This zoom isn't alone in showing this aberration – zooms in general are less well-corrected than prime lenses. You may not notice problems with small image sizes on a computer screen, but if you're picky, you may want to invest in a few prime lenses at focal lengths you use a lot. I grew up with just two lenses – a 50mm f/1.5 and a 135mm f/4.5. It's no surprise I use both those focal lengths fairly often today. Looking at the rainy landscape shot from the 135mm f/4 prime, it shows little or no evidence of blue fringing on light-to-dark edges.

My 24mm and 75mm prime lenses have gotten even more use in the last year – my tastes have changed to favor wider views. It's also no accident those lengths are near the endpoints of that 24-70mm zoom with the blue fringing I've been using for the last 15 years.

More Information
L. S. Crumpler (1999) Ascent and Eruption at the Albuquerque Volcanoes: A Physical Volcanology Perspective. Retrieved from https://nmgs.nmt.edu/publications/guidebooks/downloads/50/50_p0221_p0233.pdf

Collector's Guide (nd) Petroglyph National Monument. Retrieved from http://www.collectorsguide.com/ab/abfa08.html

Mapbox (September 11, 2017) The Weather Channel's Storm Radar App. Retrieved from https://blog.mapbox.com/tracking-storms-with-the-weather-channels-newest-app-f7b31663fd21

National Park Service (nd) Petroglyph National Monument – The Volcanoes. Retrieved from https://www.nps.gov/petr/planyourvisit/volcanoes.htm

National Park Service (May 10, 2002) "THAT PLACE PEOPLE TALK ABOUT": THE PETROGLYPH NATIONAL MONUMENT ETHNOGRAPHIC LANDSCAPE REPORT. Retrieved from https://www.nps.gov/petr/learn/upload/PETR_Final_ELR.pdf

Digital Photography School (nd) Chromatic Aberration – What is it and How to Avoid it. Retrieved from https://digital-photography-school.com/chromatic-aberration-what-is-it-and-how-to-avoid-it/




Daisy Mae Donut 2012-2018

Afterward
My apologies to everyone for the lack of blog posts this fall. It's been tough to write for a variety of reasons, most notably dealing with the passing of my mother-in-law Blanche Goodman and our sweet Bernese Mountain Dog Daisy.

"Preserve your memories / They're all that's left you." -Paul Simon