Chemo slows you down, but it can let you keep going.




Pat and Daisy model what every eclipse viewer is wearing this season.



Getting to the Party


That's the way it was with our Bernese Mountain Dog Daisy as we started our eclipse viewing trip to Idaho, booked just 3 weeks before the event when it seemed she would be strong enough to go. She was a little lower-energy the day after her second chemotherapy, also our day of departure. Fortunately, our first night's destination was Durango, Colorado, our familiar first stop for most trips in the mountain west. Durango's United Campground is always relatively cool in the mountains at 6512′ elevation, and quietly dog-friendly. We also enjoyed a great dinner at Steamworks Brewing.




Heading into Durango

Not thinking about the heat to come, I'd made campground reservations through Utah to skirt the twisty mountain roads. I also reserved a spot at a hookup-less campground for the night before and the night of eclipse day near St Anthony, Idaho. That was all I could get so close to the event.

We'd traveled through Moab, Provo and the Salt Lake Valley a few times on our way to and from Montana. I knew Moab was overrun with tourists, but booked our next night's stay there anyway. I'd been one of about three mountain bikers on the Slickrock Trail over Labor Day in 1988. Four years later, the place looked like an anthill someone had just kicked over. It's only gotten worse in recent years, causing many of the Moab old-timers I'd known to move to less-crowded places. And it was nearly 100 degrees, tough to handle if you're wearing a permanent fur coat.




Mormon Temple, Provo

Provo was a few degrees cooler, still in the low 90s. But our favorite Italian restaurant there, while offering shaded outdoor seating for doggy diners, had gone heavy on the oil and gnocchi and short on the accompanying fish. Fortunately, we discovered Sub Zero had a local shop just down the street. We slurped away our sorrows with freshly-made peanut butter and chocolate ice cream.




Tank farm sunset – near Batise Springs RV Park, Pocatello, Idaho

Instead of staying a second hot day at our mosquitoey campground near Provo's Utah Lake, I called ahead to Batise Springs RV Park in Pocatello, Idaho, and snagged their last space. It was a good 10 degrees cooler than Provo and mosquito-free, to everyone's relief.

We enjoyed a leisurely walk down to the creek by the RV park, then dinner at the Sandpiper in Pocatello. Not only was the food tasty, we were also allowed to have our dogs with us on their patio.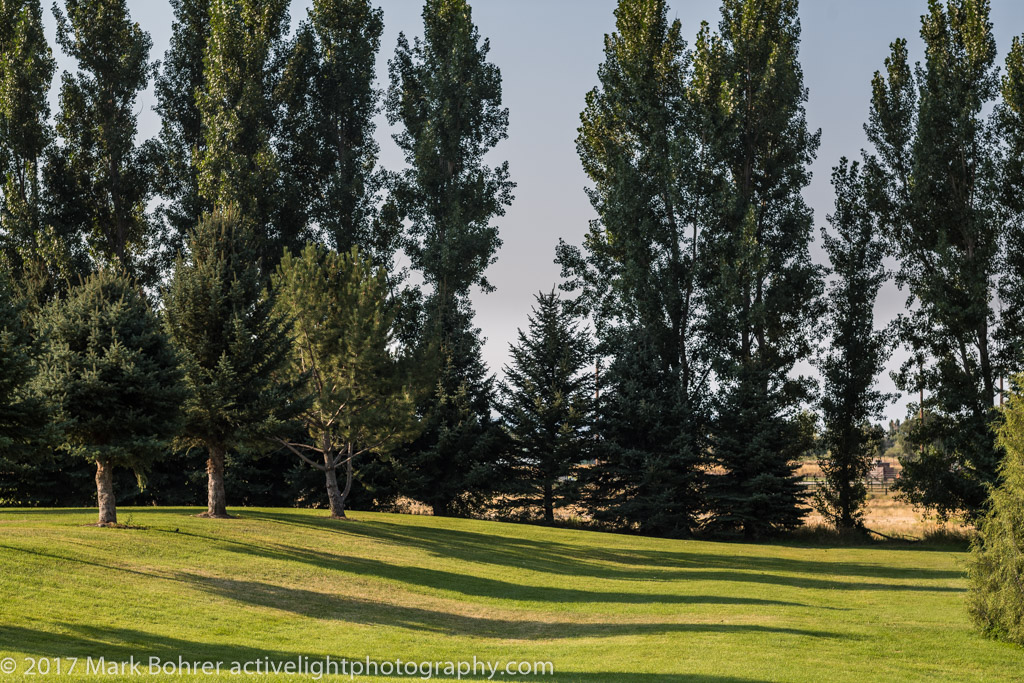 The meadow at North Bingham County Recreation Area, Shelley, Idaho

The next day, we drove to Shelley, Idaho and the North Bingham County Recreation Area. This was another small RV camp with hookups, but no availability for the night before the eclipse or the day of. We enjoyed its shaded green meadow, an oasis in the chopped-down brown nubs of alfalfa fields. We'd have preferred staying there instead of the dry, noisy dirt lot of Idaho Dunes RV Park, the camp we reserved for the night before and night after the eclipse. To be fair, it's THE place to camp near St Anthony Dunes, but it is pretty loud.

But no luck at North Bingham. So we enjoyed walking along the Snake River in Idaho Falls after patio dining at the Sandpiper (yes, there's another one there), and made our way to Idaho Dunes the next morning.



Roaring Engines and Eclipse-Scouting


"Hmm… if this is the right BRRRRMMMRRR place, we're in RRRRRRBBBBZZ trouble."

The intermittent sounds of cruising ATVs regularly interrupted any attempt at conversation. After our gate check and wrist strap wrapped around the door handle for re-entry, we found our reserved spot in this dry dirt parking lot. I thought we'd be stuck there for the eclipse with a cast of (hundreds of) thousands overflowing into the surrounding area. But even though Idaho Dunes was pretty full, we'd seen no evidence of the expected mob elsewhere.




Daisy gives a horsey ride at the Mormon Temple, Rexburg



Watch It Somewhere Else


My wife Pat was sensibly insistent about finding somewhere else to watch the eclipse. So we spent the day prospecting for spots. The nicest was above the Mormon Temple in Rexburg, Idaho. It also happened to be right on the center line of totality. On the temple grounds, it was clear Daisy's illness hasn't robbed her of her good nature. She licked her nose while a toddler climbed on her back, and we answered parental questions about the eclipse to come.

We also stopped at Rexburg's Smith Park, a gift to the city from the Mormon Church. The city planned buses to take its citizens to the park on eclipse day – pretty forward-thinking. We were impressed with how neat and clean the place was, and its friendly residents.

As we drove back to our noisy dustbowl, er, campground, I laid out a plan. We'd get up early and drive the 13 miles to Rexburg. If there were no available spots, we'd make our way back to the campground and set up there as a last resort.



Dry Camping Troubles Get Us Up Early


Dry camping anywhere requires certain preparations. If you need refrigeration like we did for Berner Daisy's pre-cooked fresh food, you'll be operating on propane. This usually works great with an RV's three-way power fridge. But we discovered propane power for our fridge wouldn't come on. (Pat's thought after some online research was that the fridge's propane sparker was fouled, and wouldn't light.) So we were stuck with battery power. I turned on the inverter so we could attempt to enjoy TV from the one available analog station, and I could charge camera batteries for the next day. I blissfully fell asleep and forgot about it.

When the coach battery falls below 10 volts, you get all sorts of alarms. The inverter starts beeping, along with your refrigerator. If the voltage goes low enough, all the alarms shut off, along with the appliances. Fortunately, we woke up before this happened. It was about 4:30am, an hour before we'd planned to get up. Remembering that the engine would charge the coach batteries, I started it up. I didn't feel too bad about our engine noise, since I'd been hearing ATV traffic 'til well after midnight.




Mormon Temple at sunrise, Rexburg, Idaho



Finding Our Spot


Our first order of business was breakfast. I can tell you everyone goes for coffee at McDonalds before an eclipse. They're open 24 hours, about the only place that is. After briefly chatting with some folks who'd just driven up from Salt Lake that morning, we drove and chewed our way to the Mormon Temple. At 5:45am, we got a prime parking spot near the top of the hill, right next to it. So much for the expected crowds.




Tracking the sun, Rexburg – Pat Goodman photo



Let The Party Begin!


I set up both cameras and practiced tracking the sun. It's pretty easy once you get your initial capture. The Dutch family next to us had questions about western Montana, grizzlies and moose on the trail, and necessary precautions for hiking in bear country (pepper spray and bear bells, and staying the heck out of huckleberry patches).

I also talked to another Leica user with an M8, who'd recognized the silhouette of my M10 camera. After 4 hours of waiting, the sun started to disappear.




Buzz watching the eclipse

Our dogs ignored everything. Sheltie Buzz slept under an umbrella, while Berner Daisy followed Pat around and waited for handouts. Dogs don't really need eclipse glasses – they're smart enough to avoid looking at the sun, unlike us silly humans.




First bite from Rexburg

It starts getting darker as the moon takes a larger bite out of the sun. Darker and darker it goes, as it starts to get a bit chilly. Finally the sun is completely blotted out except for a circular halo. You rush to remove the now unnecessary solar filter from your lens and start madly shooting the full eclipse, varying your exposure as people cheer totality. Coronal halo, Bailey's Beads, mass ejections, then the Diamond Ring as the sun begins its reappearing act.




Watching totality




Totality – beginning of the end, Diamond Ring in Rexburg

Just two minutes after it started, it's time to put the filter back on the camera as it starts to get light again. The temperature dropped around 15 degrees for that two minutes, then inched back up to normal.

At that point most people say, "Well, that's it!", hop in their cars and create a traffic jam worthy of a Beatles concert as they all try to leave at once. I stuck around for the sun's complete reappearance.




End to end eclipse composite

I used a main crop-sensor dSLR camera with an equivalent 1120mm lens, and a backup full-frame camera with a 400mm lens. The eclipse pictures here are minimally processed from the main camera at equivalent 1120mm. I created the 14-image composite in Photoshop CS6, using this procedure.




Flying out of Rexburg



The Anticlimactic Aftermath – or Let's Get Out Of Here!


After the sun reappeared completely, the road by the temple was empty. We took our dogs to Smith Park for a short romp, ate lunch, and got back on the road. I'd been fortunate enough to find camping space that night in Alpine, Wyoming, where we'd already planned to spend the next day. So that's where we went. We ate the fee for the second night at Idaho Dunes, but no way were we going back there.

The only catch came when we reached Palisades Reservoir. Because police were directing traffic several miles ahead at the turnoff for Jackson, a 90-minute trip took over three hours. I didn't care – I'd gotten my pictures. And Pat didn't care – we were staying somewhere green with great scenery and a full hookup. And Buzz and Daisy didn't care – they would get lots of yummies either way.



Shot Notes


I used the setup I talked about here – 500mm f/4L IS on EF 1.4X II teleconverter, mounted to an EOS 7D. Backup photo setup was a 400mm f/4 DO IS on an EOS 5D mk IV. Everything worked surprisingly well. I taped the focusing rings on the big lenses at infinity, and set both dSLRs for manual exposure, 1/400 second at f/11 and ISO 800 for pre-totality and f/9 for post-totality (a minor mistake – should have been the same before and after). Exposure for totality was a grab bag around 1/800 second at f/8 and ISO 3200. Smoke from wildfires in Idaho and western Montana fuzzed up everything, though. That's what happens when you're shooting through atmosphere at an object almost 94 million miles away.

I did most viewfinding in Live View on both dSLR cameras, and the venue shots with a Leica M10 with 28mm and 35mm lenses. It turned out I didn't really need my stool – a collapsible lawn chair worked about as well. I tried to keep my attention on the eclipse, but distractions are unavoidable. And they're part of the overall party atmosphere. I just wanted to capture the whole story.



More Information


Eclipse 2017 – Rexburg, accessed from http://www.eclipse2017.org/2017/communities/states/ID/Rexburg_90.htm

Photographing and Processing the May 20, 2012 Solar Eclipse, accessed from https://www.youtube.com/watch?v=wNvTvr1fYvQ

RV Parky app, accessed from https://www.rvparky.com/
This is how we find RV campgrounds when we travel.

Trip Advisor app, accessed from https://itunes.apple.com/us/developer/tripadvisor-llc/id284876798
We use this to double-check campground reviews, and also to find restaurants. We've discovered that Bring Fido doesn't always give you every dog-friendly option in a city, so we always call around to find places with patios.

Yelp app, accessed from https://www.yelp.com/mobile
Sometimes Yelp reviews are more honest than Trip Advisor's, so we check 'em both.

InRoute app, accessed from http://carobapps.com/products/inroute/
This is my main route planner. It gives me the route between stops, but also the mileage and driving time between every waypoint. I used it to find the colder and shorter return path coming up in next week's post. Stay tuned!