Cameras love grey.



18% Grey and Texture Challenges


No, not that featureless non-color halfway between black and white, the average light it reflects. Your camera's meter uses reflected light from 18% grey for an exposure reference. All cameras do this today, per an ISO standard involving some subjective testing. There are urban legends suggesting the use of 12% grey instead, but either way, it's grey. To render snow white, you'll have to overexpose +1/3 to +1 1/3 stop.




Rio Grande Gorge near Taos, New Mexico

That's not the only challenge with snow. If the sun's high in the sky on a fully-snowy landscape, that means no shadows to define covered shapes. You might get some areas with sparkles, but in heavy fresh snow that's probably it.

Fortunately, the winter sun travels at a low southerly angle if you're in North America. Low angle sun extends your low-contrast 'nice light' time, and gives you more distinct shadows – if there's any shape to what's under the snow. You may do better with a fresh, partial covering.



Take Those Winter Vacations – Get Outside and Ski!


Snowy mountains, ruins and landscape features, human and animal tracks in snow – they all snag my eye. But it was cross-country skiing that got me outside with a camera in the first place. And since most companies give you at least two paid holidays at Christmas and New Years, that's when I took vacation, to minimize the number of paid days off. I discovered the appeal of snowy mountains in California, New Mexico and Colorado. I also discovered it was a great time to vacation, as most folks were inside around a fire in an overheated room.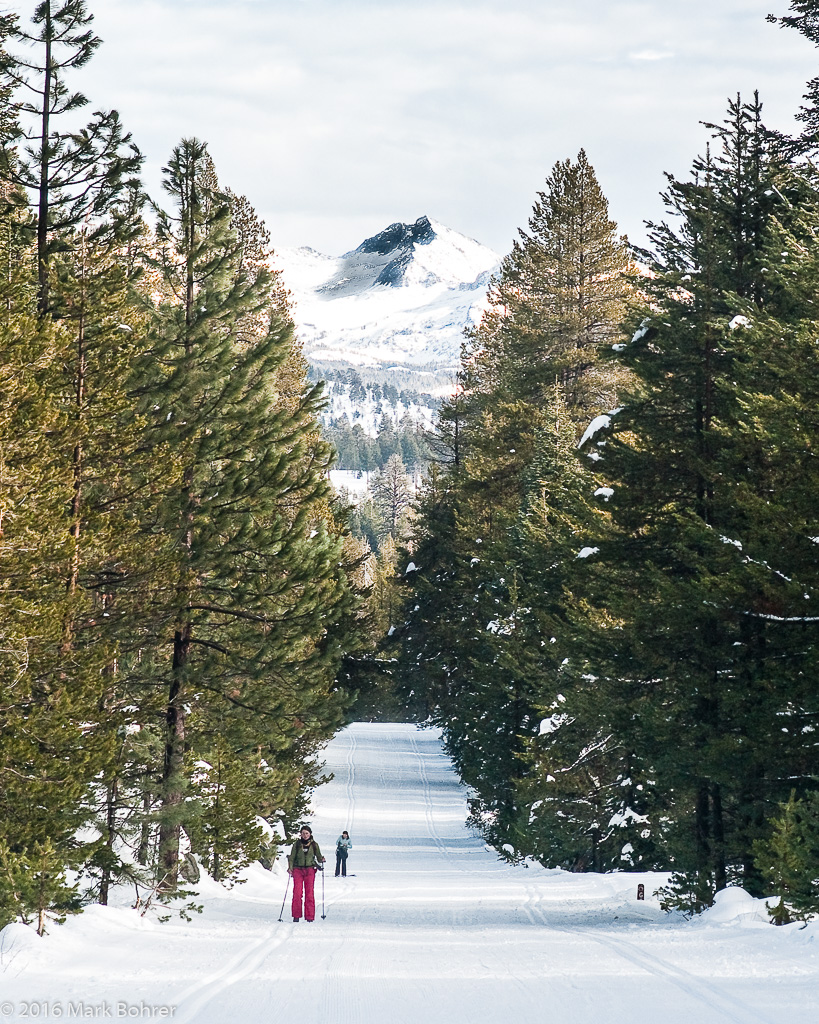 XC skiing on Glacier Point Road
Yosemite National Park, California



Backcountry Mountain Views


I learned to cross-country ski in Yosemite National Park. But escaping the crowds required a bit more travel. Skiing the backcountry trails near California's Donner Lake allowed exploration of territory made brand-new by winter. As a bonus, snow covered up the hand of man. I could imagine what the country looked like before my ancestors got here.

If there was too much ice or not enough snow on trails, nearby Royal Gorge Cross-Country Ski Resort had over 200km of groomed trails. I skied and occasionally raced with friends up there for many years.




Snow and sunstar, near Donner Summit, California

On one freshly-snowy day before New Years we skied to a marvelous view of the lake from Donner Summit, then headed across a forested ridge. I shot a sunstar on shadowed fresh snow through the trees. We made it back to our cabin before dark for a great New Years celebration.




Truckee Valley and distant torchlight procession at Squaw Valley, California

During a forced shutdown in February 2002, I skied out for sunset color with Squaw's torchlight precession, then returned to dinner and watching the winter Olympics at my Truckee, California hotel. More recently, Red River Ski Resort's torchlight parade gave me another unusual opportunity for winter nightshots.




Red River torchlight, New Mexico



Capture Those Sparse-Snow Textures!


Sunset gives you color and great textures and shadows from low-angle sun. Your best bet, though, is partially snow-covered landscapes. Needles and snow grains on twisting shapes give the viewer's eye something to follow around the frame. You can add playing animals and active humans to tell the full story. Familiar landscapes become something different with partial-snow enhancement.




Cane cholla and snow, Sandia foothills, Mew Mexico




Buzz and Daisy pause their playtime, Taos, New Mexico

Close-up detail shots work well in fresh snow. I like large lens apertures for limited depth of field and fast shutter speeds. That lets me 'freeze' falling snow with great textures and pleasantly-blurred backgrounds.




Pine snow detail, Albuquerque, New Mexico